n.
The period of time covering the physical formation and development of Earth, especially the period prior to human history.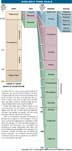 (click for a larger image)
geologic time
---
This website is best viewed in Chrome, Firefox, Microsoft Edge, or Safari. Some characters in pronunciations and etymologies cannot be displayed properly in Internet Explorer.