n.
A small, rubber-headed hammer used in medical examination or diagnosis primarily for percussion of nerves to elicit reflexes.Also called plexor.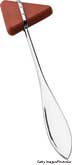 (click for a larger image)
reflex hammer
---
This website is best viewed in Chrome, Firefox, Microsoft Edge, or Safari. Some characters in pronunciations and etymologies cannot be displayed properly in Internet Explorer.