an·chor

(ăngkər)
n.
1.
Nautical
A heavy object attached to a vessel by a cable, rope, or chain and dropped into the water to keep the vessel in place either by its weight or by its flukes, which grip the bottom.
2.
A rigid point of support, as for securing a rope.
3.
A source of security or stability.
4.
a.
An athlete, usually the strongest member of a team, who performs the last stage of a relay race or other competition.
b.
The person at the end of a tug-of-war team.
v.
an·chored
,
an·chor·ing
,
an·chors
v.tr.
1.
a.
To secure (a vessel) with an anchor.
b.
To secure with a fastener or similar device:
bolts anchoring the deck to the house.
See Synonyms at
fasten
.
c.
To cause to be fixed in place; fix or immobilize:
fear anchoring him in the dark hallway; mussels anchoring themselves to a rock.
d.
To cause to feel attached or secure:
memories anchoring us to our home town.
e.
To provide a basis for; establish or found:
"innovative cuisines firmly anchored in tradition"
(Gourmet Magazine).
2.
Sports
To serve as an anchor for (a team or competition):
anchor a relay race.
3.
To narrate or coordinate (a newscast).
4.
To provide or form an anchor store for:
Two major stores anchor each end of the shopping mall.
v.intr.
Nautical
To drop anchor or lie at anchor.
---
[Middle English
anker, ancher
, from
Old English
ancor
, from
Latin
ancora, anchora
, from
Greek
ankura
.]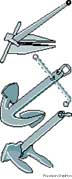 (click for a larger image)
anchor
top to bottom: Danforth, admiralty, and stockless anchors
---
Indo-European & Semitic Roots Appendices
Thousands of entries in the dictionary include etymologies that trace their origins back to reconstructed proto-languages. You can obtain more information about these forms in our online appendices:

The Indo-European appendix covers nearly half of the Indo-European roots that have left their mark on English words. A more complete treatment of Indo-European roots and the English words derived from them is available in our Dictionary of Indo-European Roots.