n.
Any of several forces, especially the ionic bond, covalent bond, and metallic bond, by which atoms or ions are bound in a molecule or crystal.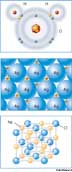 (click for a larger image)
chemical bond
top: covalent bonding in a water molecule
center: metallic bonding in silver
bottom: ionic bonding in sodium chloride
---
Indo-European & Semitic Roots Appendices
Thousands of entries in the dictionary include etymologies that trace their origins back to reconstructed proto-languages. You can obtain more information about these forms in our online appendices:

The Indo-European appendix covers nearly half of the Indo-European roots that have left their mark on English words. A more complete treatment of Indo-European roots and the English words derived from them is available in our Dictionary of Indo-European Roots.
This website is best viewed in Chrome, Firefox, Microsoft Edge, or Safari. Some characters in pronunciations and etymologies cannot be displayed properly in Internet Explorer.