dif·fu·sion

(dĭ-fyzhən)
n.
1.
The process of diffusing or the condition of being diffused:
the diffusion of new technology around the world.
2.
Physics
a.
The scattering of incident light by reflection from a rough surface.
b.
The transmission of light through a translucent material.
c.
The spontaneous intermingling of the particles of two or more substances as a result of random thermal motion.
3.
The spread of linguistic or cultural practices or innovations within a community or from one community to another.
---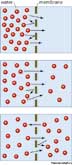 (click for a larger image)
diffusion
In the process of diffusion of a single solute, a concentration of molecules on one side of a membrane (top) will move through a membrane (center) until there is equilibrium on both sides (bottom).
---
Indo-European & Semitic Roots Appendices
Thousands of entries in the dictionary include etymologies that trace their origins back to reconstructed proto-languages. You can obtain more information about these forms in our online appendices:

The Indo-European appendix covers nearly half of the Indo-European roots that have left their mark on English words. A more complete treatment of Indo-European roots and the English words derived from them is available in our Dictionary of Indo-European Roots.