Fahr·en·heit

(fărən-hīt′)
adj. Abbr.
F
Of or relating to a temperature scale that registers the freezing point of water as 32° and the boiling point as 212° at one atmosphere of pressure. See Table at
measurement
.
---
[After Daniel Gabriel Fahrenheit.]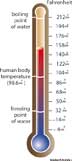 (click for a larger image)
Fahrenheit
---
Fahr·en·heit

(fărən-hīt′, färən-),
Daniel Gabriel
1686-1736.
German-Dutch instrument maker who developed the mercury thermometer and devised the Fahrenheit temperature scale.
---
The American Heritage® Dictionary of the English Language, Fifth Edition copyright ©2020 by Houghton Mifflin Harcourt Publishing Company. All rights reserved.
 
Indo-European & Semitic Roots Appendices
Thousands of entries in the dictionary include etymologies that trace their origins back to reconstructed proto-languages. You can obtain more information about these forms in our online appendices:

The Indo-European appendix covers nearly half of the Indo-European roots that have left their mark on English words. A more complete treatment of Indo-European roots and the English words derived from them is available in our Dictionary of Indo-European Roots.
This website is best viewed in Chrome, Firefox, Microsoft Edge, or Safari. Some characters in pronunciations and etymologies cannot be displayed properly in Internet Explorer.