flax

(flaks)
n.
1.
a. A widely cultivated plant, Linum usitatissimum, having pale blue flowers, seeds that yield linseed oil, and slender stems from which a textile fiber is obtained.
b. The fine, light-colored textile fiber obtained from this plant.
c. Any of various other plants of the genus Linum or of other genera in the family Linaceae.
2. A pale grayish yellow.
---
---
flaxyadj.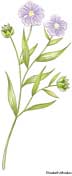 (click for a larger image)
flax
Linum usitatissimum
---
Indo-European & Semitic Roots Appendices
Thousands of entries in the dictionary include etymologies that trace their origins back to reconstructed proto-languages. You can obtain more information about these forms in our online appendices:

The Indo-European appendix covers nearly half of the Indo-European roots that have left their mark on English words. A more complete treatment of Indo-European roots and the English words derived from them is available in our Dictionary of Indo-European Roots.
This website is best viewed in Chrome, Firefox, Microsoft Edge, or Safari. Some characters in pronunciations and etymologies cannot be displayed properly in Internet Explorer.