gey·ser

(gīzər)
n.
1.
A natural hot spring that intermittently ejects a column of water and steam into the air.
2.
(gēzər)
Chiefly British
A gas-operated hot-water heater.
---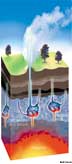 (click for a larger image)
geyser
Water contained in porous rock seeps into an opening. Heated by magma below, it escapes under pressure to the earth's surface.
---
Indo-European & Semitic Roots Appendices
Thousands of entries in the dictionary include etymologies that trace their origins back to reconstructed proto-languages. You can obtain more information about these forms in our online appendices:

The Indo-European appendix covers nearly half of the Indo-European roots that have left their mark on English words. A more complete treatment of Indo-European roots and the English words derived from them is available in our Dictionary of Indo-European Roots.