gey·ser

(gīzər)
n.
1.
A natural hot spring that intermittently ejects a column of water and steam into the air.
2.
(gēzər)
Chiefly British
A gas-operated hot-water heater.
---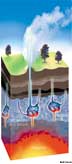 (click for a larger image)
geyser
Water contained in porous rock seeps into an opening. Heated by magma below, it escapes under pressure to the earth's surface.
---
This website is best viewed in Chrome, Firefox, Microsoft Edge, or Safari. Some characters in pronunciations and etymologies cannot be displayed properly in Internet Explorer.