horn

(hôrn)
n.
1. One of the hard, usually permanent structures projecting from the head of certain mammals, such as cattle, sheep, goats, or antelopes, consisting of a bony core covered with a sheath of keratinous material.
2. A hard protuberance, such as an antler or projection on the head of a giraffe or rhinoceros, that is similar to or suggestive of a horn.
3.
a. The hard smooth keratinous material forming the outer covering of the horns of cattle or related animals.
b. A natural or synthetic substance resembling this material.
4. A container, such as a powder horn, made from a horn.
5.
Something having the shape of a horn, especially:
a. A horn of plenty; a cornucopia.
b. Either of the ends of a new moon.
c. The point of an anvil.
d. The pommel of a saddle.
e. An ear trumpet.
f. A device for projecting sound waves, as in a loudspeaker.
g. A hollow, metallic electromagnetic transmission antenna with a circular or rectangular cross section.
6.
Music
a. A wind instrument made of an animal horn.
b. A brass instrument, such as a trombone or tuba.
c. A French horn.
d. A wind instrument, such as a trumpet or saxophone, used in a jazz band.
7.
a. A usually electrical signaling device that produces a loud resonant sound:an automobile horn.
b. Any of various noisemakers operated by blowing or by squeezing a hollow rubber ball.
8. Slang A telephone.
intr.v.
horned
,
horn·ing
,
horns
To join without being invited; intrude. Used with in.
Idioms:
blow
/toot
(one's) own horn
Informal
To brag or boast about oneself.
draw
/haul
/pull
in (one's) horns
Informal
1. To restrain oneself; draw back.
2. To retreat from a previously taken position, view, or stance.
3. To economize.
on the horns of a dilemma
Faced with two equally undesirable alternatives.
---
---
hornadj.
hornistn.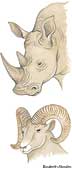 (click for a larger image)
horn
top: white rhinoceros and bighorn sheep
bottom:western saddle

(click for a larger image)
horn
---
Horn

(hôrn),
Cape
A headland of extreme southern Chile in the Tierra del Fuego archipelago. The southernmost point of South America, it was first rounded in 1616 by the Dutch navigator Willem Schouten (died 1625), who named it after his birthplace, Hoorn. It is notorious for its storms and heavy seas.
---
The American Heritage® Dictionary of the English Language, Fifth Edition copyright ©2022 by HarperCollins Publishers. All rights reserved.
 
Indo-European & Semitic Roots Appendices
Thousands of entries in the dictionary include etymologies that trace their origins back to reconstructed proto-languages. You can obtain more information about these forms in our online appendices:

The Indo-European appendix covers nearly half of the Indo-European roots that have left their mark on English words. A more complete treatment of Indo-European roots and the English words derived from them is available in our Dictionary of Indo-European Roots.