man·do·lin

(măn′də-lĭn, măndl-ĭn)
n.
A small lutelike instrument with a typically pear-shaped body and a straight fretted neck, having usually four sets of paired strings tuned in unison or octaves.
---
[French
mandoline
, from
Italian
mandolino
, diminutive of
mandola
, lute, from
French
mandore
, from
Late Latin
pandūra
, three-string lute, from
Greek
pandoura
, perhaps of
Mesopotamian origin.]
---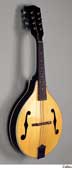 (click for a larger image)
mandolin
---
Indo-European & Semitic Roots Appendices
Thousands of entries in the dictionary include etymologies that trace their origins back to reconstructed proto-languages. You can obtain more information about these forms in our online appendices:

The Indo-European appendix covers nearly half of the Indo-European roots that have left their mark on English words. A more complete treatment of Indo-European roots and the English words derived from them is available in our Dictionary of Indo-European Roots.
This website is best viewed in Chrome, Firefox, Microsoft Edge, or Safari. Some characters in pronunciations and etymologies cannot be displayed properly in Internet Explorer.