nave 1

(nāv)
n.
The central part of a church, typically extending from the narthex to the chancel and flanked by aisles.
---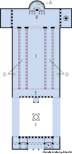 (click for a larger image)
nave1
plan of the 4th-century
AD
St. Peter's Basilica, Rome
Italy
A. apse
B. transept
C. nave
D. aisles
E. narthex
F. atrium
---
---
The American Heritage® Dictionary of the English Language, Fifth Edition copyright ©2018 by Houghton Mifflin Harcourt Publishing Company. All rights reserved.
 
This website is best viewed in Chrome, Firefox, Microsoft Edge, or Safari. Some characters in pronunciations and etymologies cannot be displayed properly in Internet Explorer.