the·or·bo

(thē-ôrbō)
n.
pl.
the·or·bos
A large lute with a long neck having two sets of pegs, one set above and somewhat to the side of the other to accommodate a set of bass strings, used in the 1600s and early 1700s.
---
[French
théorbe
, from
Italian
tiorba
, of unknown origin.]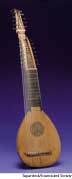 (click for a larger image)
theorbo
---
Indo-European & Semitic Roots Appendices
Thousands of entries in the dictionary include etymologies that trace their origins back to reconstructed proto-languages. You can obtain more information about these forms in our online appendices:

The Indo-European appendix covers nearly half of the Indo-European roots that have left their mark on English words. A more complete treatment of Indo-European roots and the English words derived from them is available in our Dictionary of Indo-European Roots.